Posted By:

admin_designphase

Comments:

0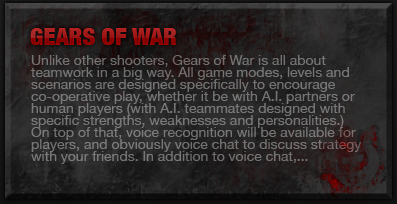 Sometimes when you're working with a client they will ask for some "grunge" and it is your duty to make that grunge happen. Grunge can happen anywhere, but most often it happens on walls! Using a few photoshop brushes this is easier than you may think.
For this tutorial I've decided to go with a style that fit my favorite game at the moment. Gears of War - Yes it is an awesome game. The graphics, and styles of the website are very cool as well. That is what I've tried to capitalize on in this tutorial.
This is a very easy tutorial that is open to freedom of grungy expression!
Making the base
Start out with the size you need, and make a new layer. Use the rectangle tool to make the rectangle. Fill it in with a nice grey color, and use these blending options to create the chiseled edges.
and you will have:
The weathered effect
Most of what you will need to get this grungy wall of grunge to be just that, grungy. You will need to surf the web for grunge photoshop brushes. I got most of mine from Deviantart. Create a new layer and start grunging it up with some grunge brushes. To get the effect I did was to make a copy of the layer of the chiseled edge box. In the blending options/ bevel and emboss section click on texture. You will have a couple of presets, use the one you think is nice. Play with the sliders until you get it nice. But be aware that you will be deleting some it, so its not final! Now use your brushes to delete the layer. Don't drag the brush around, but click around a bit - not too much! This will give effect of the texture being really weathered.
Final Touches
I made a new layer and added some blood. Make the grunge brushes red and click around a bit. Turn down the opacity to get the old blood look.
You are pretty much done for the base. You will need to go in and add your content above it, or whatever you need it for. I have put some dumy text in there to give you an idea;
I hope you enjoyed this tutorial!